UPDATE: An enhanced version of this erotic game for couples called Suck! Me is now available for iPad. The foreplay game design was updated and reimplemented using Swift. For more details, see the Sexy Vampire Game Overview. Download it today and give yourselves even more reason to lick and suck on each other.
After creating the PNG images for the initial set of hunter and vampire oriented foreplay cards for Suck!, I was finally able to play test the adult board game design on the iPad. I am very happy with the basic play of the game. The mix of the movement and foreplay dice seem to work well together. Also, the chase aspect of the game does seem to add a bit of excitement and extra fun. However, during play testing it became obvious that the female player had a distinct advantage and won almost every time. Apparently I gave the vampiress a fairly significant bias for increasing her skill level in both the vampire and hunter categories.
Even though I tend to favour women, the foreplay activity cards had to be modified to make the game play more balanced. Gaining blood droplets corresponding to each skill category also needed to be balanced. I went through all the cards again and modified the text for some so they were not specifically favouring the female player. I also added a few additional cards with a male bias to mirror female cards I wanted to keep as is. Although it's not perfect, subsequent play testing seemed to indicate it was much more balanced. (Note that due to the nature of the board game and time frame involved to make it available for download, full play testing that involved couples engaging in the various foreplay activities was not feasible. Most of the play testing was simulated so skill points were rewarded without the erotic challenges being performed.)
Suck! the vampire sex game for couples is ready to play.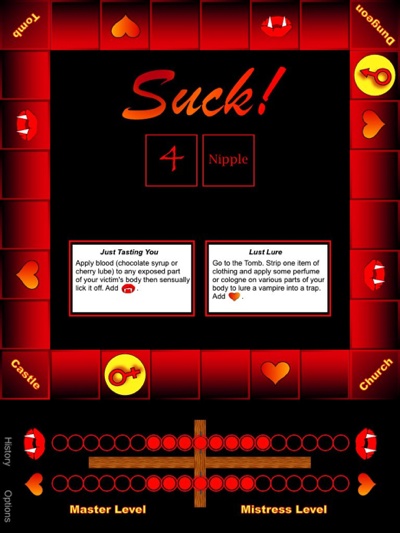 Unfortunately the EveryGame app had to remove support for loading in your own games so I am removing the links to download the files. Suck! Me is now available for iPad.
A Physical Version of Suck!
Lately I have been creating adult board game designs to work with the EveryGame app for the iPad. It's great for relatively rapid prototyping and saves paper and printer ink. But the main benefit for sex games is that you can play it in bed and perform the foreplay activities without messing up the board. Just turn it off, turn each other on and start it back up right where you left off.
However, not everyone has an iPad to play with. So, I have been thinking of how to play Suck! using a physical board game. The Suck! zip file contains all the images that you need. You could them print out to play. Here is a PDF version of the board design which should produce a clearer print: SuckVampireBoard.pdf . It does have a lot of black so it might be cheaper to bring the image to a photography print kiosk and get it done. You may want to get it laminated or placed in a plastic protector too.
The card images could be arranged in a word processor to print 10 per page. You could align them to a business card template and use business card stock if desired. Or, print them on thicker paper and cut them out. For my prototypes, I laminate sheets of cards and cut them out so they're tougher and smoother to support shuffling.
The foreplay and dice mechanism is a little trickier since it effectively uses 30 something sided dice. For this, I recommend using three regular 6 sided dice two the same colour and one different. You will also want a set of foreplay dice. Roll all three dice. If single different die is even, roll the foreplay dice and perform the action without moving. If the die is a 1, you can either move 1 or add 1 to the other two dice. Otherwise you move based on the numbers on the two same coloured dice. If you have a 12 sided die, you could use it and a regular die to determine when to perform a foreplay vs movement action.
I hope you enjoy this vampire themed sex board game for couples. Please check out some of my other foreplay game designs:
Frisky Business – erotic make your own opoly variation
Frisky Foreplay – a sexy dice game to fool around with
Going Down Getting Off – a naughty version of snakes & ladders
Also, please leave a comment if you like Suck! or have any suggestions to improve it.