Rather than limiting your design to adult board games, take any opportunity to adapt the rules of regular games and transform them into erotic variations. For instance, although Boggle is considered a nice clean family game, dirty minded couples are bound to find some naughty words scrambled among the lettered cubes. It's easy to imagine this as the start of some frisky fun. But how do you adjust the rules to include sexy activities and fun foreplay?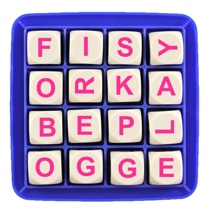 I originally designed a version of Boggle Foreplay for our Sexy Suggestions website. There is also an online scoring form with randomly generated foreplay ideas to perform at specific point levels. However, I wanted a new version that didn't require much up front thinking or preparation. Also, I figured the new rules should follow the original game play as much as possible so that couples could switch to the erotic version quickly.
Since the game design would provide blog and marketing content, I also wanted to tie in the Frisky Foreplay ideas lists as an option for couples who had or wanted to buy the game. And of course, once the Dirty Boggle blog post was completed, a YouTube video to promote it was next on the list.
Try coming up with your own erotic twist for Boggle and then take a look at the video below.
Here is the script for the video:
In this video, you'll discover a way to transform Boggle into a wild sex game for couples. This hot word game will have you thinking, talking and playing dirty to win. It combines erotic talk, stripping and lots of creative foreplay. All you need is a Boggle game and a dirty mind to start a night of naughty fun. You'll arouse both your mind and body.

Start by agreeing on the sexual forfeits you'll be playing for. This will help build erotic tension during the game.

Your objective is to find exciting words to express love, desire and lust for your partner. At the end of each round, earn bonus points by using one of your words in a sexual context. Ah … but you don't just talk dirty, you need to play dirty too. When you find the right words, act out your sensual ideas together as foreplay. And they don't have to all be dirty words either. You just need to use them in a dirty way.

Here are the sexy new rules in a bit more detail.

First player to 120 points wins. Score the same as in the standard rules but include bonus points for performing various erotic activities.
Secretly write down all words you find even regular words. You can score for both and, when it comes right down to it, you'll be surprised how they can be used in a dirty way. Exclude all words that you both found in your individual lists.
All dirty words are allowed even if they are rude, crude and nasty. Slang terms for body parts, erogenous zones and sexual activities are acceptable.
When either of you score with a word that can be used in a sensual or sexual context, gain double points by using it in a descriptive, verbal request of your lover. They then need to perform it with or for you immediately. Only one request per player per turn.
If you can't think of a foreplay idea using one of your words, your partner has the option to "steal" a word from your list. If they come up with a sexy activity for you to perform, you lose the points for that word. They don't get extra points though – just more pleasure.
You can decline any activity if you're not ready for it yet but your partner gets an extra 5 bonus points.

Note that only interesting words should be used to express sexually creative desires. Avoid using words that have no special meaning or that can be used in almost any sentence. Also, try to talk as seductively as you can while being very detailed and specific with your erotic desires. Instead of "do something to my toes", try "remove your nylons and let me sensually lick and suck each of your toes". You get to include a stripping action and foreplay in the same turn.

I hope you enjoy Thinking, Talking and Playing Dirty together with the one you love.

Visit FriskyForeplay.com/dirtyboggle for more details and optional rules to make the game even hotter.

Please leave a comment and subscribe for more bedroom game ideas.
Images for the video were taken with a Canon EOS 60D camera and edited in Pixelmator. The voice over was done using Audacity. The video presentation was done in Keynote and then edited in iMovie.
Please leave a comment and let me know what you thought of the game design and the video.